Kickstart din story
Modul 3
Nu er det tid til at samle brikkerne til din fortælling her i modul 3.
I løbet af Kickstart din story har vi fokuseret på din drøm og ambition. Det fungerer som din personlige ledestjerne. Når du har defineret formålet med din fortælling, bliver det meget nemmere at bruge din fortælling til at bygge en bro imellem, hvor du er i dag, og hvor du er på vej hen.
Passion er omdrejningspunktet for din fortælling. Det handlede modul 2 om. Når du agerer ud fra din passion, fremstår du autentisk, tillidsvækkende og interessant. Det er jeg overbevidst om.
Autentisk passion skaber energi.
Hos dig selv og hos din modtager.
I dag samler vi brikkerne til din fortælling. Modul 3 handler om at finde ind til dit hovedbudskab og forklare, hvordan du skaber værdi hos din kunde, din kollega eller for dit team.
Jeg håber, at Kickstart din story har inspireret dig og kan hjælpe dig med at skabe en stærk fortælling, der styrker dit brand og har fokus på din passion.
Alt det bedste, Helle
Din personlige storybook
Din personlige storybook hjælper dig med at samle brikkerne til din fortællig.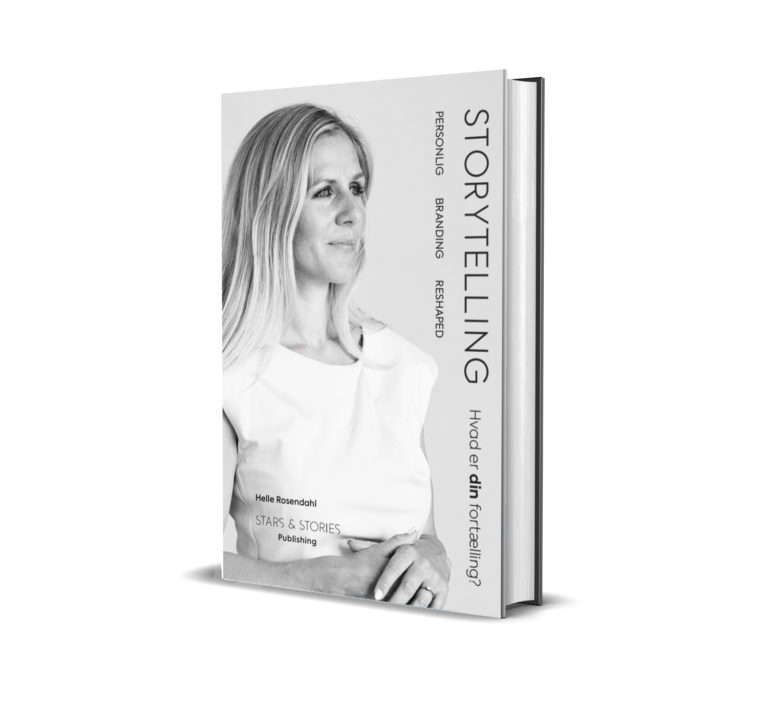 Du får et eksklusivt uddrag af bogen Storytelling, hvad er din fortælling? når du er en del af Kickstart din story.
Du kan købe bogen med 25 pct. rabat.
Normalpris 149 kr. Din pris 111,25 kr. Gælder også e-bog.
Brug koden KICKSTARTBOG
Fifteen sharp entrepreneurs in the media industry listened, participated and grew when we asked Helle Rosendahl from Storytelling Akademiet to hold an exclusive webinar to expand upon her own personal story. Her many excellent examples and exercises gave our participants a lot to think about, and Helle's positive energy was just what we needed!
Helle has been a huge help in our internal processes around the rebranding of a product. She has delivered sharp and incisive insights and helped us on our journey to create and coordinate a core narrative around our product. Helle has a great gift for getting to the heart of things, and it has been very valuable for us to have a guide who could take us all the way in there.
Jeg er så glad for det arbejde, vi har lavet sammen!  Jeg står langt stærkere i mit fundament efter din kyndige vejledning, men også med dine kompetente og kærlige indspark.  Jeg glæder mig til at få det i spil på den nye hjemmeside og i vores kommunikative virke. Jeg ser frem til vores samarbejde fremover! 
Helle is not merely a gifted storyteller. She is a storydoer, who constantly – both through her work and her personality – inspires others to unleash their stories and bring them home. Helle is a constant and energetic reminder of all the things that I can do and succeed in. It all starts with the right story. My story.
You were just amazing at our Thursday social session here at Freeliving – all I can say is wow! Thanks for all your pearls of wisdom.
Thanks for all the tips and experience. It made for some exciting reading and gave plenty of food for thought.
Helle, you inspire me and get me to think outside the box. After 15 years as entrepreneur, this can sometimes be necessary. So thanks a million.
You were just amazing at our Thursday social session here at Freeliving – all I can say is wow! Thanks for all your pearls of wisdom.
Læste den i et hug, meget inspirerende og velskrevet.
Thank you for an inspiring and impassioned presentation at FreeLiving. You have given
Wow, what a fantastic book. Enlightening and incredibly well written. Absolutely worth a read.